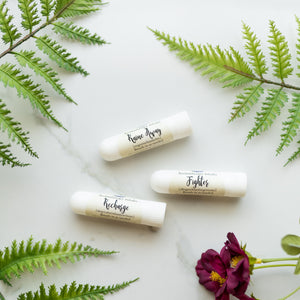 Aromatherapy Inhalers
Regular price
$10.00
$0.00
Unit price
per
Choose one of our aromatherapy blends, now in an easy to use inhaler! Simply open, put gently up nose slightly, breath in as desired. Made with our pure essential oil blends. 
Recharge- If you've been lacking Z's lately, use an hour before bed, then again right before sleepy time. Once you're able to sleep regularly again, use as needed. Also great for extra calm and relaxation. 
Alivio-CAUTION! This blend may make your headache go away! Inhale when you feel one coming on or in the middle of a headache. 
Raine Away- Raine Raine go away! This blend is for the toughest of migraines. 
Immunity-Boost your immune system with this inhaler, to build it up and keep it strong! 
Melt Away-If you're already stressed to the maxx, use 3-4x a day for a few weeks. After that, use when needed. If you tend to stress in certain situations or at certain times, use then.
Juicin'- Get your creative juices flowing. 
Maxx- This one gives you the boost you need. If you already lack energy or ambition, use in the morning and a couple times throughout your day. Once you feel re-energized, use when needed. "An everyday pick-me-up to help you be your potential- to the Maxx."
A-Game- Attention. Alertness. Concentration. Focus.  Use in school, at work, in your office, at practice, driving- anytime you need that extra focus.
Love potion- aphrodisiacs/libido boost
Fighter- allergies
---