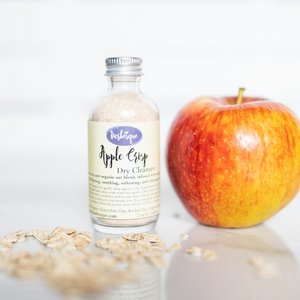 Apple Crisp Dry Cleanser
Regular price
$12.00
$0.00
Unit price
per
A Fall spin on our classic Cleansing Grains! All natural clay and organic oat blend, infused with organic apple extract. Exfoliating, soothing, softening, and clearing of the skin.
An all natural and organic dry cleanser that is easy to use. Cleanse and gently exfoliate your skin, or leave thicker as a masque. Just need some water. Comes with directions. 2oz glass bottle. Safe for all skin types.

Ingredients: Organic Gluten Free Oats, Kaolin Clay, Organic Apple Extract.
---