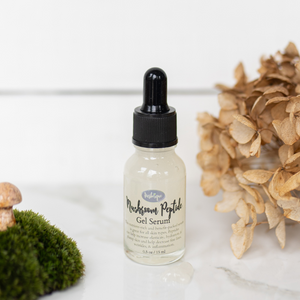 Mushroom Peptide Gel Serum
Regular price
$18.00
$0.00
Unit price
per
This nutrient-rich and benefit-packed serum is great for all skin types. Peptides
can help increase elasticity, hydration, & plump skin and help decrease fine lines, wrinkles, & inflammation.
Directions: After your facial routine, apply this moisturizer at the end (but before creme if you use it). Start with a dropper and apply. If you need more, apply a little more. You can also apply a drop or 2 under eyes. Great to use with facial stones/tools. Safe for daily use. *Store bottle in a cool, dry place out of sunlight*  0.5oz glass bottle with dropper top. 

Ingredients: Jojoba Oil, Vitamin E Oil, Water, Mushroom Peptides, Glycerin, Xanthan Gum, Lemon Distillate, Vanilla Oleoresin, Preservative (Benzyl Alcohol, Salicylic Acid, Glycerin, Sorbic Acid). *all organic whenever possible
---