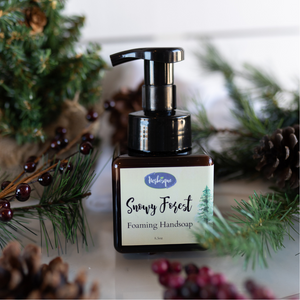 Snowy Forest Foaming Handsoap
Regular price
$8.00
$0.00
Unit price
per
The perfect soap for the holiday season! A lovely blend of oils make this a wintry favorite! 
All natural Foaming Hand Soap, scented with pure plant oils. This foaming hand soap is like none other! Ultra moisturizing, leaving your hands both clean and soft!
They come in amber bottles to preserve the soap the longest possible. Because we only use essential oils (not fragrance oils), they need to be in dark bottles to maintain quality and freshness. Our pumps have the foamer mechanism tops, so the liquid comes out as a gently foam. So heavenly! 8.5oz. (save your bottles because we offer refills!) 
We saponify organic oils to gain the antibacterial properties, then add some more oils for extra moisturization! And pure essential oils for refreshing scents! Our foaming hand soaps are each made with their own blend of pure essential oils, for both their antibacterial and aromatic benefits.
Ingredients: jojoba oil, avocado oil, vitamin e oil, essential oil blend, water and saponified oils of Organic Olive, Coconut, Hemp, Palm Kernel, and Jojoba.
---