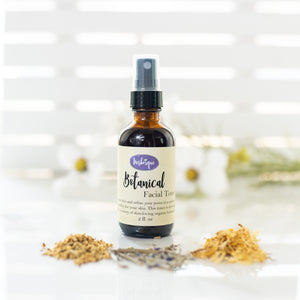 Botanical Facial Toner
Regular price
$18.00
$0.00
Unit price
per
Our Balancing Botanical Facial Toner is not only the best way to properly close and tonify your pores after a facial masque, it also will refine your pores and keep them tight after cleansing your face.
Our alcohol free witch hazel based toner is infused with organic herbs for weeks before we blend it into toner. We recommend that after every time you do a facial masque, you spritz on toner afterwards. When you do a mask, you are opening your pores and detoxing them. After you rinse off you mask and pat your face dry, your pores are left open. Spritz on toner to close your pores naturally and in a beneficial and healthy way. Toner is a great addition to your daily routine if you have oily skin.
2oz dark glass bottles with fine mist spray top. Each bottle comes with directions for use.
Ingredients: Alcohol Free Witch Hazel, *Matricaria chamomilla (Chamomile), *Lavandula angustifolia (Lavender), *Calendula officinalis (Calendula), *Sambucus nigra (Elderflower), *Rosa canina (Rosehip). *Organic.
Also check out our other Skin Care products and facial care sets available!
Please see our disclaimer at the bottom of the page before purchasing.
---