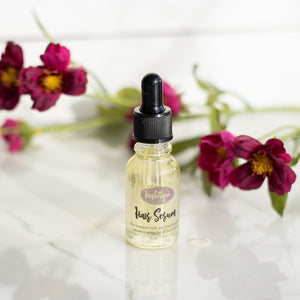 Hair Serum
Regular price
$15.00
$0.00
Unit price
per
Made with organic oils and nutrient rich plant/essential oils that are great for hair health. You can apply to scalp, you can apply to ends, or pat onto body of hair. It's really adaptable to your hairs needs. A little goes a long way.
This nutrient-rich and benefit-packed serum is great for all hair types.  15ml glass bottle with dropper top. Apply to hair as desired/what works best for your hair type. Some tips- apply to damp hair and/or just to ends of hair.  This serum is great for over all hair health and moisturization.  Ingredients: Argan Oil, Marula Oil, Meadowfoam Oil, Baobab Oil, Pomegranate Oil, Vitamin E Oil, Essential Oils.  Packaging will vary based on availability. 
Argan Oil- Argan oil can moisturize your hair and scalp and protect your hair from everyday damage. By reducing breakage and split ends and keeping your scalp healthy, argan oil may help prevent hair loss for thicker, fuller hair. It also acts as a great leave in conditionerand detangler. 
Marula Oil- Marula oil is a nourishing oil over all, without being greasy. It can help dry, frizzy, and brittle hair types. This oil is both moisturizing and hydrating. 
Meadowfoam Oil- this oil acts more of a barrier, helping to lock in moisture. It can also help manage tangles and frizz and reduce brittleness and dullness, creating a more silky-smooth texture. 
Baobab Oil- This oil makes a great leave in conditioner as its high omega-3 fatty acids.  It can help moisturize and strengthen hair. 
Pomegranate Oil- Pomegranate oil works effectively on all hair types to hydrate dull, dry strands and to protect against harsh environmental stressors. It stimulates circulation to the scalp, eliminates dirt and dandruff, prevents damage to the follicles, and increases the growth of stronger, healthier hair.  
---